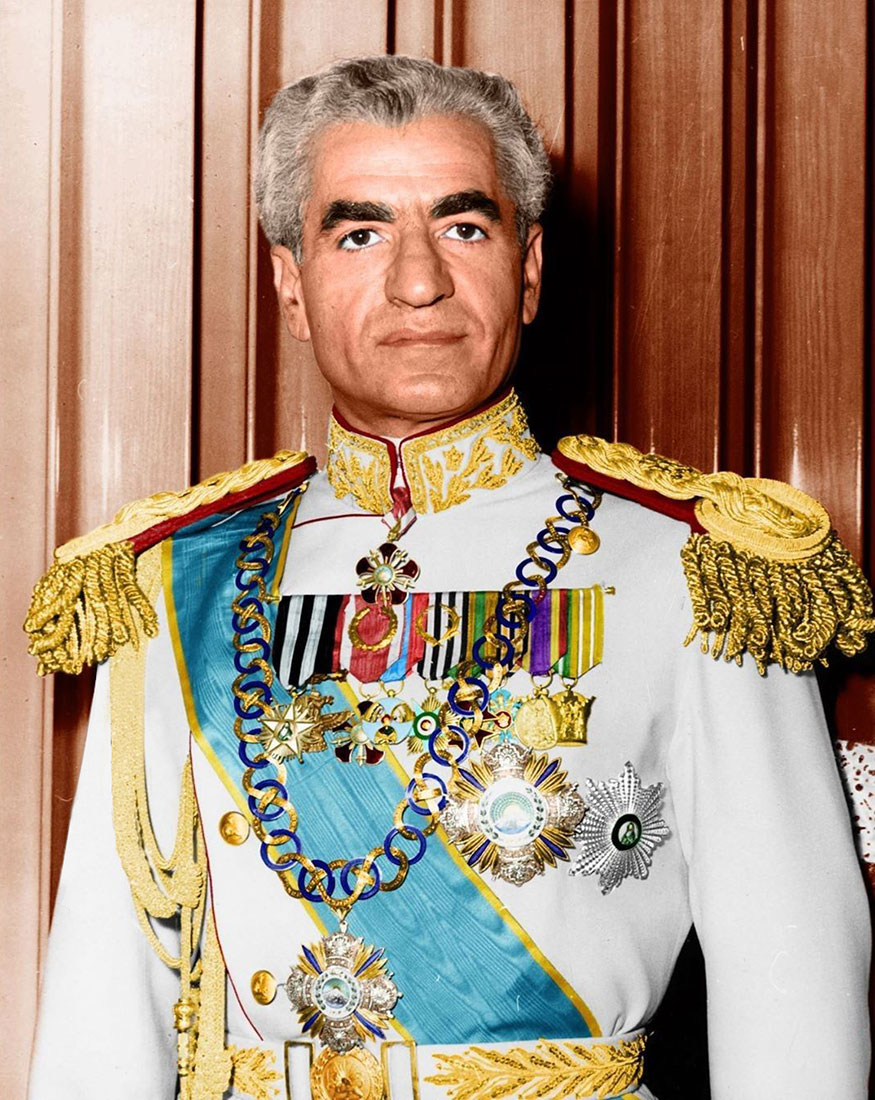 His Imperial Majesty Mohammad Reza Pahlavi was born in Tehran on October 26, 1919, the first child of Reza Khan's marriage to Nimtaj, daughter of his commanding officer in the elite Persian Cossack Brigade. His twin sister, Ashraf, was born four hours later.
Mohammad Reza was formally proclaimed Crown Prince of Persia in 1926 following his father's ascension to the Peacock Throne as Reza Shah Pahlavi. While Reza Shah pursued a program to modernize and develop Iran, changing Persia's name to Iran, and placing the government in the hands of western-trained technocrats, Crown Prince Mohammad Reza was educated at the Le Rosey boarding school in Switzerland and then enrolled as a cadet in the Military College of Tehran. In 1939 he married Princess Fawzia of Egypt (1921-2013) who gave birth to Princess Shahnaz (b. 1940). In September the combined armies of Great Britain and Russia invaded and occupied Iran, ostensibly to prevent the country's oil assets, railways, and roads from falling into German hands. Reza Shah abdicated in favor of his son who succeeded to the throne as Mohammad Reza Shah Pahlavi on September 16, 1941.
The defeat of Nazi Germany was followed in short order by the Cold War, which placed Iran on the front lines of the East-West conflict. Following the 1946 Azerbaijan crisis, when the Soviet Union supported a breakaway movement in Iran's north, the Shah pursued closer strategic ties with the anti-communist West. The young emperor survived an assassination attempt in 1949 carried out by an underground Islamist group. In 1951 Iran's parliament, the Majlis, recommended that the Shah offer the premiership to Mohammad Mossadeq, leader of the National Front and the leading advocate of oil nationalization. The Shah approved Mossadeq's appointment but expressed concern at his prime minister's confrontational tactics towards Great Britain, which refused to end its oil monopoly. Events came to a head in August 1953 when a powerful domestic coalition consisting of the Iranian army, the Tehran bazaar, and senior Shia clerics ousted Mossadeq to prevent what they feared was an abortive communist takeover. At the height of the crisis, the Shah was temporarily exiled before returning to Tehran in triumph. The anti-communist uprising was supported by the US and British governments.
In the early 1960s, the Shah unveiled his 'White Revolution', an ambitious package of social and economic reforms to develop and modernize Iran. The 'White Revolution' included land reform, civil rights for women, the nationalization of forests and waterways, and the formation of literacy and medical corps to help Iran's rural poor. Conservative opposition to the 'White Revolution' peaked in June 1963 when Ayatollah Khomeini, a fundamentalist clergyman, led an uprising that was defeated by the army. The Shah established executive rule and used Iran's burgeoning oil revenues to finance the transformation of Iranian industry and agriculture. By the time of his belated coronation in October 1967, Iran enjoyed one of the highest rates of economic growth in the world and a reputation as a bastion of peace and stability in the Persian Gulf. The Shah emerged as an international statesman whose Imperial Armed Forces provided a protective shield over regional oil assets and shipping routes.
Following the Shah's divorce from Fawzia, in 1951 he married Soraya Esfandiari (1932-2001) whom he divorced seven years later when she could not bear children. In 1959 he married Farah Diba with whom he had four children: Reza (b. 1960), Farahnaz (b. 1963), Alireza (1966-2011), and Leila (1970-2001). The Shah's decision in 1967 to crown Farah Empress of Iran and appoint her regent in the event of his premature death symbolized his staunch commitment to full equality for women.
In the early 1970s Iran under the Shah's rule emerged as the dominant power in southwest Asia. With a booming economy, the strongest military in the region, and strong support from its western partners, Iran provided the region with stability and security. The Shah stepped up the pace of modernization and Iran became a regional hub for commerce, science, and the arts. He began his country's nuclear program and embarked on far-reaching efforts to provide national health insurance, rights for workers, and a comprehensive social welfare system. In 1971 the Shah invited world leaders to Iran to mark the 2,500th anniversary of the Persian monarchy. Three years later Iran's oil revenues quadrupled as a result of the so-called 'Oil Shock'. Ultimately, the influx of oil revenues overheated the economy and contributed to popular unrest. High oil prices also raised tensions with Iran's western allies and especially the United States. In 1976 the Shah embarked on a program of liberalization and announced his intention to hold free elections. His political reforms coincided, however, with the emergence of two threats, one from the religious right led by Khomeini, the other from the far-left supported by terrorist groups financed, trained, and armed by Libya, the PLO, and the East Bloc. These groups took advantage of liberalization to form an alliance that stoked social unrest and caused panic and terror.
In January 1979, rather than support a military crackdown that would have caused bloodshed, Mohammad Reza Pahlavi left Iran for exile. He died in Egypt from lymphoma on July 27, 1980. He is buried in Cairo's Al-Rifa'i Mosque.
Head of House of Pahlavi
Predecessor
H.I.M. Mohammad-Reza Pahlavi (born on 26 October 1919 – Died on 27 July 1980 (aged 60).
1st Spouse Fawzia Fuad of Egypt Born 5 November 1921 (Married from. 1939–1948)  Died 2 July 2013 (aged 91)
2nd Spouse Soraya Esfandiary-Bakhtiari Born 22 June 1932 (Married from. 1951–1958) Died 26 October 2001 (aged 69)
Issue
None
3rd Spouse Farah Diba Born 14 October 1938 (Married from. 1959–1980)
Issue
Crown Prince Reza Pahlavi (born 31 October 1960)
Princess Farahnaz Pahlavi (born 12 March 1963)
Prince Ali-Reza Pahlavi (28 April 1966 – 4 January 2011)
Princess Leila Pahlavi (27 March 1970 – 10 June 2001)
Predecessor
H.I.M. Mohammad-Reza Pahlavi
Successor
H.I.H. Crown Prince Reza Pahlavi
Spouse
H.I.M. Empress Farah Pahlavi
Siblings
Princess Shams Pahlavi (1917–1996)
Princess Ashraf Pahlavi (twin sister, born. 1919)
Prince Ali Reza Pahlavi (1922–1954)
Father, Reza Shah Pahlavi (Born 15 March 1878 – Died 26 July 1944 (aged 66)
Mother, Tadj ol-Molouk Ayromlou (Born 17 March 1896 – Died 10 March 1982 (aged 85)
Born, October 27, 1919
Iran, (Persia) Tehran
Died, July 27, 1980 (aged 60) in Cairo, Egypt
Mohammad Reza Shah's Achievements and Services
Mohammad Reza Shah ascended the throne during the perilous and turbulent years of WWII, during which armed forces of Britain and the Soviet Union entered Iran's soil and forced Reza Shah to abdicate the throne and leave the country, while both powers seemed to desire to see someone other than his eldest son become king.  Since his early years on the throne, Mohammad Reza Shah had believed, and so stated, that the following five elements were a part of the fundamental rights of the Iranian people: Food, clothing, housing, education, and healthcare.  However, the first 12 years of his reign were consumed by efforts to defend and maintain Iran's independence and territorial integrity, including forcing the Soviet Union to vacate Iran's soil, liberate Azerbaijan from the hands of a Soviet puppet regime, stand up to the ever-increasing power of the Tudeh Party, and secure Iran's rights over its oil resources in the country's southern regions.
Contrary to claims made by Mohammad Reza Shah's opponents, it was he who encouraged Dr. Mossadegh to accept the post of prime minister, helping him gain Parliament's vote of confidence.  He never wavered from supporting Mossadegh against domestic and foreign enemies. He felt obligated by the constitutional demands and powers of his office to dismiss Mossadegh because Mossadegh had clearly failed to resolve the oil crisis, brought the country close to bankruptcy, and allowed the Tudeh Party, backed by Moscow, to achieve extraordinary power. Even then, had Mossadegh not forced the parliament that no longer supported him to dissolve by staging an illegal referendum, and had he still enjoyed parliamentary support, he would not have dismissed him.
Unlike the Islamic Republic that, knowingly or otherwise, has endangered Iran and the Iranians and has made them face threats of destruction and ruin, Mohammad Reza Shah considered guarding the nation against danger and harm to be the main duty of the government.  For this reason, the Shah's foreign policy was based on having friendly relations with the international community, while he considered a strong and modern military to be the guarantor of Iran's protection from foreign invasion.  Although a major portion of Mohammad Reza Shah's rule coincided with the Cold War, during the 60′s and 70′s, however, Iran managed to establish good relations with almost every country in the world, including relations with Nasser's Egypt after the 1967 War, and Saddam Hussein's Iraq after 1975.  Moreover, in addition to being a peaceful and friendly nation, Iran established ties with countries that were in conflict with one another, including the United States, the Soviet Union, and China; India and Pakistan; and Israel and Arab states.
To truly appreciate Mohammad Reza Shah's achievements for Iran, we must place them in context: the chaos of the war and oil nationalization years, and the social, economic, cultural, and geostrategic evolution of Iran between 1954 and 1978. Within the short time span of 24 years, Iran, still one of the most underdeveloped nations of the world in the 1940s, became an outstanding example of a rapidly developing economy and society during the 1960s and 70s, boasting one of the world's highest rates of economic growth, as well as a rare record in the area of social welfare and cultural change.  A few examples of Iran's progress and development are as follows:
–Iranian women were granted the right to vote, as well as the right to be appointed or elected to any position, including those of judges, lawmakers, and ministers.  With the passage of laws concerning "family welfare," women were given equal rights to men, particularly in the areas of marriage and child custody.  The number of women enrolled in universities rose steadily.  The passage of the "National Action" law, allowed women to participate and have a role in all governmental decisions that affected women's status, freedom, equality, and other social issues.  The basic principle of this action, long before it was adopted in other countries, was that women played a role in all events and aspects of society, and were involved in its affairs.
-Education and educational institutions spread across the country to towns and villages.  In 1975, education and daily meals for every child, from kindergarten to eighth grade became free.  A number of Iranian universities, including Aryamehr Technological University (now Sharif) and Pahlavi University in Shiraz, were able to compete with the best institutions in developed countries.  Nearly 60 thousand Iranian students were studying in some of the best universities in the West.  By 1976, Iran had become the first nation among the countries of the "South" to reverse the brain drain, providing what was necessary to make a qualitative leap in science and technology.
-Iran's economy and society became outstanding models of development, with its income per capita that was less than $100 back in the 40′s, jumping to $2400 in 1978.
-Land Reform freed the farmers from the yoke of landowners; every farmer became a landowner, able to farm and join cooperatives.
-In 1963, Sepah-e-Danesh (Education Corps) was established, and in 1964 and 1965 respectively, Sepah-e-Behdasht (Health Corps) and Sepah-e-Tarvij-va-Abadani (Reconstruction and Development Corps) were created to serve in small towns and villages.
-In 1965, the citizens themselves established Arbitration Councils and Houses of Justice to adjudicate problems.
-According to a newly passed law in 1975, the Iranian government was mandated to provide every Iranian social security benefit.  The same year, workers gained the right to buy shares in large industrial plants.
-In 1975, pregnant women and children under the age of two received qualified to receive food and nutritional assistance.
-Unlike the Consortium Agreement of 1954, when Iran's oil had not yet become truly nationalized, in 1973, the nationalization of oil became a reality.  With Mohammad Reza Shah's direct involvement, Iran's government annulled the 1954 agreement and signed a new one to buy and sell oil with the Consortium's individual members.  The National Iranian Oil Company took complete control of the country's production, exploration, exports, and marketing of oil.  Iran also gained total ownership of its oil reserves.  Member countries of the Consortium became Iran's premier oil customers.  In reality, with the signing of the new agreement, Iran attained its goal of nationalization of oil.
-Iran began to export natural gas to Europe by completing a pipeline and developing its natural gas industry.  Had Iran been able to complete its petrochemical industry, it would have become one of the world's major petrochemical centers a long time ago.
-In 1974, Iran launched its peaceful nuclear program to produce nuclear energy.  Had the project continued, Iran could have had 3 German and French-built nuclear power plants by 1980-81.
-New industries, including steel mills, machine-tool factories, and tractor manufacturing plants were built during that period by taking advantage of prudent and balanced relationships with the Eastern Bloc as well as the West.
-In the areas of environmental preservation, from water resources and forests to plants and animals, Iran had become on par with advanced nations.
-With its important strategic situation, Iran was striving to act as a bridge that would bring diverse cultures and nationalities together.  Along the same lines, Iran pursued a series of cultural programs that included the Shiraz Art Festival, Isfahan Folklore Festival, and Toos Festival, as well as the establishment of new museums, and the promotion of music, cinema, and other visual arts.  New theaters and cultural centers, government-run or private, were opening with increasing frequency.  The first seminar on the "Dialogue of Civilizations" got underway in Tehran in 1978.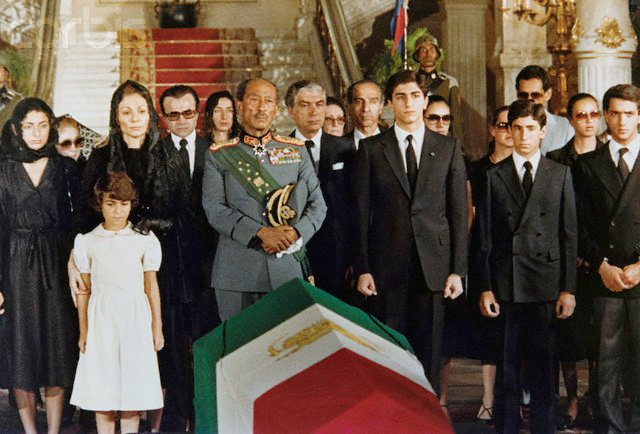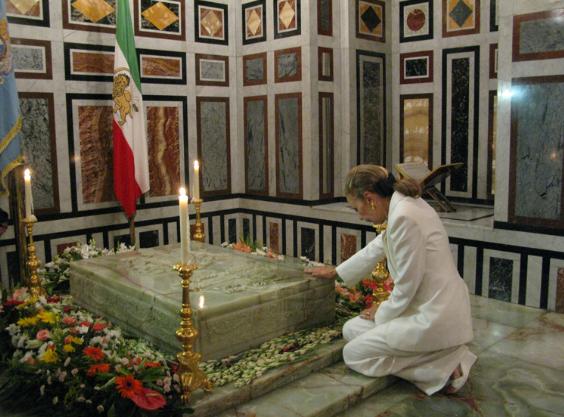 Arya Mehr's documentary Part 1
Arya Mehr's documentary Part 2
Photo Album
Mohammad Reza Shah Pahlavi